Sports
Grey Cup: Winnipeg Blue Bombers, Montreal Alouettes to meet for first time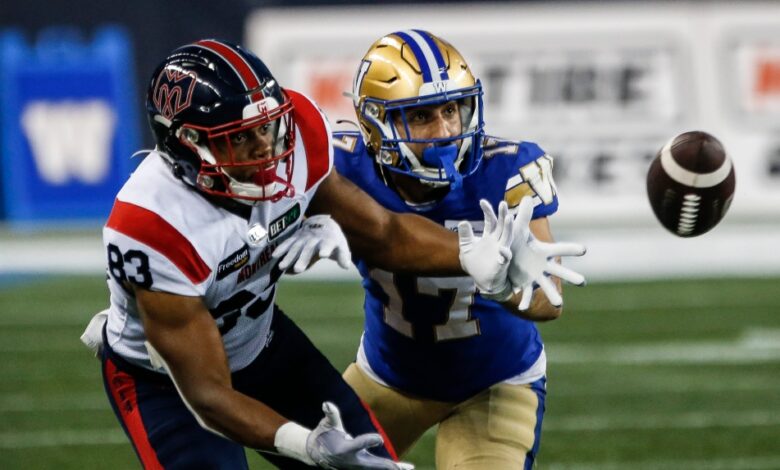 HAMILTON –
It will be a Grey Cup first at Tim Hortons Field on Sunday.
The Montreal Alouettes and Winnipeg Blue Bombers will square off in the CFL championship game, marking the first time the two franchises have ever met in the Grey Cup. And on Monday, event organizers announced the contest was sold out.
Montreal will make its first appearance in the game since 2010 when it defeated Saskatchewan 21-18 at Commonwealth Stadium. It was the second straight championship win for the Alouettes.
Winnipeg, though, is in the Grey Cup for a fourth straight year and chasing a third win. After downing Hamilton in 2019 and '21, the Bombers dropped last year's game 24-23 to Toronto when Argonauts defensive lineman Robbie Smith blocked Marc Liegghio's 47-yard field goal try with 54 seconds remaining.
Quarterback Zach Collaros is among a number of Bombers making a fourth straight Grey Cup appearance. Overall, Collaros is in the game for a fifth time, also winning in 2012 with Toronto.
But on Sunday, Collaros will become the first CFL quarterback to start four straight Grey Cups.
Montreal quarterback Cody Fajardo will make his first Grey Cup start but also won in 2017 as a backup with Toronto.
The Grey Cup is also nothing new for the head coaches.
Winnipeg's Mike O'Shea is chasing a third win in four appearances as a head coach. He also won three times as a player with Toronto (1996-97 and '04) and in 2012 as the Argos special-teams co-ordinator.
Montreal head coach Jason Maas was also Toronto's quarterback coach in 2012 and dressed for three Grey Cups as a quarterback, winning in 2003 and '05 with Edmonton. But he'll make his first appearance as a head coach Sunday.
Despite its recent Grey Cup success, Winnipeg is 12-15 overall in the CFL championship game. Montreal has won seven times in 18 appearances.
Winnipeg (14-4) won both regular-season meetings with Montreal (11-7) en route to finishing atop the West Division. The Alouettes were second in the East Division but their 11 wins were the most since 2012.
Winnipeg won four-of-six games versus East Division rivals but one of its losses was a 29-23 decision to Hamilton at Tim Hortons Field on Sept. 16. The Bombers were also 6-3 this season away from IG Field.
Montreal was 4-4 against West Division squads and 6-3 on the road.
Montreal enters the Grey Cup on a very nice roll, having won seven straight. And the Alouettes' defence has been especially impressive in the last two victories.
The unit didn't allow a touchdown in its 27-12 win over the Hamilton Tiger-Cats in the East Division semifinal then forced nine turnovers to power Montreal past heavily favoured Toronto 38-17 in the conference final, with Marc-Antoine Dequoy and Kabion Ento returning interceptions for touchdowns.
But Montreal's defence finished second overall this year in forced turnovers (48) and third in interceptions (22) and fumbles (14). The additions of veteran defensive lineman Shawn Lemon (nine sacks in 13 regular-season games) and linebacker Darnell Sankey (14 tackles, two sacks, two interceptions and a forced fumble in two playoff wins) have only strengthened an already solid unit.
Stellar defence, though, has been a Winnipeg trademark since 2019. This season, the Bombers led the CFL in fewest points allowed (18.2 per game), offensive TDs (27), net yards (298.8), passing yards (229.4) and were third against the run (90.4 per game).
However, standout linebacker Adam Bighill left IG Stadium following Winnipeg's 24-13 West Division win over B.C. on Saturday on crutches.
But the Bombers boast much more than just a solid defence.
Collaros, the CFL's outstanding player in 2021-22, was second overall in passing (4,252 yards) but tops in TD strikes (33). Dalton Schoen (71 catches, 1,222 yards, league-high 10 TD grabs) was the club's leading receiver but has missed Winnipeg's last three games with an ankle injury.
Winnipeg native Brady Oliveira anchors the CFL's ground attack. Oliveira, the West Division's outstanding player nominee, led the league in rushing with 1,534 yards (5.9-yard average) and nine TDs while adding 38 catches for 482 yards and four touchdowns.
Oliveira ran for 109 yards and a TD on 21 carries versus B.C.
But the most glaring difference between the two offences is their ability to protect the passer. Winnipeg quarterbacks were sacked 33 times during the season, second only to Toronto (19) whereas opposing defences registered 61 sacks against Montreal's offence (only Ottawa with 71 had more).
On Saturday, Toronto's defence sacked Fajardo seven times, with five coming in the first half alone.
Winnipeg and Montreal haven't met since the Bombers' 47-17 home win Aug. 24. The West Division champions relied heavily on their ground game versus the Als, rushing for a combined 381 yards on 56 attempts (6.8-yard average).
Oliveira ran for over 100 yards in each contest, accumulating 239 combined yards on 38 carries (6.3-yard average) and a TD.
Collaros finished 31-of-47 passing for 417 yards with six TDs and four interceptions versus Montreal. Winnipeg's defence also registered seven sacks overall, Cam Lawson leading the way with three.
Fajardo was 31-of-52 passing against Winnipeg for 407 yards with two interceptions. But in Montreal's 17-3 home loss to the Bombers, Kaion Julien-Grant had six catches for 129 yards while Austin Mack registered six receptions for 115 yards.
   This report by The Canadian Press was first published Nov. 13, 2023.