Halifax
News of US naval executive officer's death aboard ship overshadows Halifax visit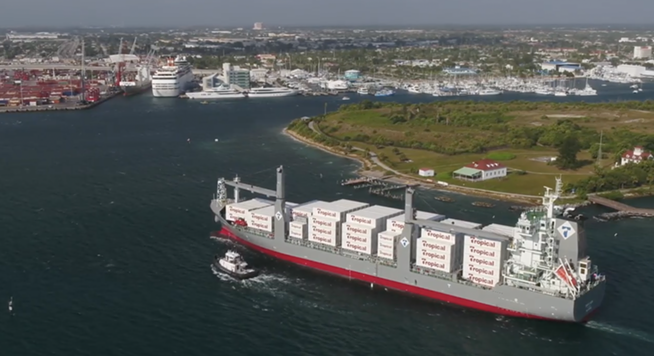 Before we get to this week's harbour comings and goings, there's a weightier matter to attend to: Monday's arrival of USS Marinette LCS 25 into Halifax Harbour was met with a sombre follow-up when two defense officials with the US navy confirmed its crew were grieving an apparent suicide. The newly-commissioned combat ship's executive officer was found dead aboard the ship on Oct. 27, while it was moored in Cleveland. An investigation into the officer's death is ongoing, but according to USNI News, two unnamed officials confirmed that an initial report supported the apparent cause of death.
"Our thoughts go out to [the officer's] family during this incredibly difficult period, and we would ask their privacy be respected," a Tuesday statement from US Surface Force Atlantic reads. "Littoral Combat Ship Squadron (LCSRON) 2 is providing chaplain and mental health support to the ship's crew. Cmdr. Janet Brooms will be assigned as executive officer."
The combat ship was greeted by tugboat Atlantic Bear in Halifax Harbour on Nov. 13, and berthed at the HMC Dockyard before leaving again on Tuesday afternoon. Words are never easy in the wake of loss, but these words from Vincent van Gogh seem fitting:
"The heart of man is very much like the sea; it has its storms, it has its tides, and in its depths, it has its pearls, too."
Here's a look at what else is coming in and out of Halifax Harbour this week:
Monday, November 13
The MSC Shristi container ship arrived four days late from the Canary Island port of Las Palmas, Spain. It docked at the Fairview Cove Terminal until early Tuesday morning, when it left Halifax for Boston.
The Tropic Hope container ship reached the South End Container Terminal around 10am after a five-day voyage from Philipsburg, Sint Maarten. It, too, left Tuesday morning—but instead of chilly Boston, it's off to Palm Beach, Florida. (Which makes you think: It's easy to be hopeful when the destination is always sunny. Show me a ship named Hope that travels only in the harshest climates. That's a vessel more deserving of the name.)
Finally, the ZIM Iberia container ship came nearly nine days behind schedule from Valencia, Spain. It berthed at the Fairview Cove Terminal until Tuesday morning, when it left for New York City.
Tuesday, November 14
Montreal rocker Sam Roberts came up with the alter ego Ben Blank to "wipe the slate clean" from a 20-year catalogue that came with its own set of weighty expectations. In the spirit of fictional personas, may I suggest that Torm Agnes is perfectly suited for the ATP tennis circuit, circa 1980? Picture it: A quarterfinal match between Agnes and Björn Borg at Wimbledon, or a five-setter against Ivan Lendl at the French Open. It feels right, doesn't it?
The oil tanker arrived late Tuesday night after a 15-day crossing from Antwerp, Belgium. It's currently docked at the Irving Oil Terminal.
Elsewhere, the 294-metre-long NYK Nebula container ship berthed at the Fairview Cove Terminal after a five-day trip from Cartagena, Colombia. The ship left Wednesday morning for Southampton, UK.
Wednesday, November 15
One of the largest ships to visit Halifax this week, the ONE Falcon container ship, arrived 15 days behind schedule. At 364 metres, the ship is longer than the IWK Hospital and the neighbouring Dalhousie dentistry school on Robie Street. It came in from Norfolk, Virginia and is docked at the South End Container Terminal.
The Atlantic Sail ro-ro/container ship came in just after 7:30am. The ship arrived at the Fairview Cove Terminal after an eight-day crossing from Liverpool, UK. It leaves Wednesday afternoon for New York City.
The Lake Wanaka vehicle carrier reached Eastern Passage's Autoport just after 10:30am. The Monrovia-based ship came in from Emden, Germany. It's slated to stick around the harbour until Friday afternoon.
Remember our 1998 World Cup winger Franbo Lohas? The general cargo ship leaves for Portsmouth, Massachusetts today. It's expected to arrive stateside by Friday.
At last, the Oceanex Sanderling ro-ro/cargo ship arrived late Wednesday morning on its weekly run from St. John's, NL, where it will return on Friday.
Thursday, November 16
There is some irony in a ship named Pacific Trader plying its… well, trade far from the ocean it claims as its own. The container ship arrives in Halifax on Thursday evening, after port visits to Houston; Altamira, Mexico; Kingston, Jamaica; and New York. Its most frequent port visits in 2022? That'd be Port of Spain and Point Lisas, both of Trinidad and Tobago. Which, memory serves, border the Caribbean Sea and Atlantic Ocean. Moving on…
Our second contender for longest ship arrival of the week, the ONE Hawk container ship, arrives Thursday afternoon. Identical in all respects to its sibling, the 364-metre-long ONE Falcon, the Hawk is one of 15 Bird-class container ships built for Japanese shipping company NYK Line. It comes into Halifax Harbour from Colombo, Sri Lanka and will dock at the South End Container Terminal. The ship leaves Friday afternoon for New York.
The Nolhan Ava ro-ro/cargo ship returns to the Fairview Cove Terminal this Thursday. As it does every week, the ship is making the rounds between Halifax; Argentia, NL; and St. Pierre and Miquelon.
Another returnee? The Orion crane ship, which has been working to assemble wind turbines for a project off the coast of Martha's Vineyard.
Finally, the MSC Alyssa container ship is due into port, nearly six days behind schedule from Montreal. The ship is expected to dock at the South End Container Terminal.
Friday, November 17
A warm welcome to the Algoma Mariner bulk carrier, which arrives from Sainte-Catherine, QC, after stops in Port Colborne and Thunder Bay, Ont. The 225-metre-long ship is expected to reach Halifax in the wee hours of Friday morning—which is to say, loooong before the sun rises.
When does the sun come, anyway? In the case of the Atlantic Sun, not until 6pm. The container ship is currently in Norfolk, Virginia and listed as two days behind schedule on the Port of Halifax's website. It will dock at the Fairview Cove Terminal.
Two more container ships round out the day's arrivals: First, MSC Leigh is due at the Fairview Cove Terminal around noon, then Bakkafoss is set to arrive at the South End Container Terminal an hour later. The former ship is inbound from Sines, Portugal, while the latter arrives from Portland, Maine.
Saturday, November 18
A quiet start to the weekend in Halifax Harbour: The Em Kea container ship and Themis vehicle carrier are the lone listed arrivals. The former is one week behind schedule from Montreal, while the latter is en route from Southampton, UK.
Sunday, November 19
If your significant other has been hinting at Hermès ahead of Black Friday weekend, here's your chance to tell them we have Hermes at home: The CMA CGM Hermes container ship arrives Sunday around 3pm. The 366-metre-long vessel is officially our largest ship arrival this week, edging out the ONE Hawk and Falcon. It has a carrying capacity of 15,000 20-foot shipping containers—which, if laid end to end, would stretch for 91.4 kilometres, or roughly the drive from Long Lake to Lunenburg. (If the "Hermes at home" line doesn't work with your partner, try those trivia tidbits—it ought to distract and/or bore them juuust enough for you to steer the subject away from why you're about to spend the night alone on the couch.)
Last, but not least, the Morning Catherine vehicle carrier and ZIM Atlantic container ship are both due in Halifax Harbour. The latter is the surer of the two arrivals: It left Valencia, Spain on Nov. 12 and is set to arrive at the South End Container Terminal around 7:30am. The Morning Catherine, meanwhile, might not arrive until Monday; the Port of Halifax's vessel forecast summary has it listed as a midnight arrival, but the ship's latest forecast on VesselFinder has it pulling in around 6:30am on Nov. 20.