Sports
CFL: Blue Bombers top B.C. Lions 24-13, advance to Grey Cup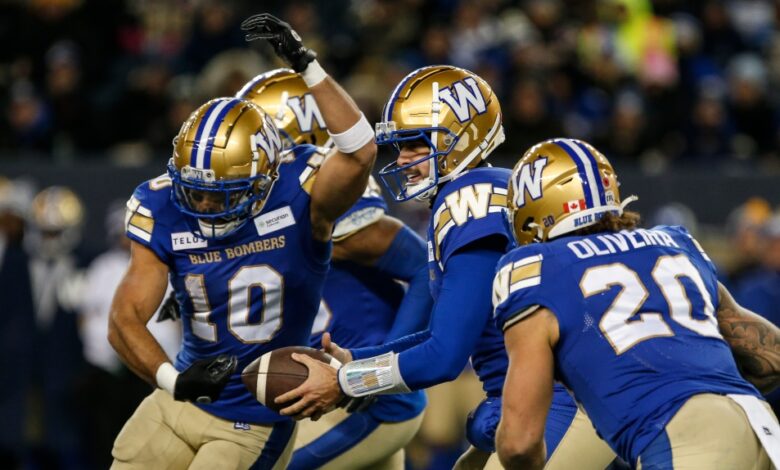 WINNIPEG –
Brady Oliveira rushed for 109 yards and one touchdown while Nick Hallett blocked a punt and scored to help propel the Blue Bombers to a franchise-record fourth straight Grey Cup appearance after a 24-13 victory over the B.C. Lions in Saturday's CFL West Division final.
Winnipeg will face Montreal in the 110th Grey Cup on Nov. 19 in Hamilton after the Alouettes upset the Toronto Argonauts 38-17 in the East final.
The Bombers will try to win a third championship in four appearances after losing last year's title game 24-23 to the Argonauts. Winnipeg won the Cup in 2021 and 2019. The league didn't play in 2020 because of the COVID-19 pandemic.
Winnipeg quarterback Zach Collaros completed 14 of 21 pass attempts for 158 yards with no interceptions in front of a fifth straight sellout of 32,343 fans at IG Field. He was sacked twice.
Vernon Adams Jr. was sacked nine times and was 13-of-25 passing for 221 yards with one touchdown and three interceptions.
Winnipeg's game-time decision for injured receivers Nic Demski and Rasheed Bailey and running back/receiver Greg McCrae was all three good to go.
However, a big injury hit the Bombers late in the second quarter.
Star middle linebacker Adam Bighill left the field with 1:37 left after appearing to injure his right leg. He didn't place much weight on his foot when he went to the sideline and rode a cart to the dressing room. He didn't return.
Oliveira scored on an eight-yard run, pushed the final few yards by the offensive line. Hallett blocked a punt, recovered the ball and ran 15 yards for a TD.
Sergio Castillo connected on field goals from 29, 11 and 35 yards, but missed attempts from 46 and 34 yards. He picked up one single and made two converts.
Lions receiver Justin McInnis caught a 45-yard touchdown pass while Sean Whyte booted field goals from 48 and 43 yards and was good on one convert.
Winnipeg led 7-3 after the first quarter, 18-10 at halftime and 18-13 after the third.
B.C. had the game's opening drive, which was kept alive by a Winnipeg pass-interference penalty. The possession ended with Whyte's 48-yard field goal.
Oliveira was the workhouse in Winnipeg's first drive, carrying the ball eight times for 59 yards and grabbing an 11-yard catch. His eight-yard touchdown run at 10:31 capped off the series. The only other play in the series was an incomplete pass to Bailey.
After the first quarter, Oliveira had 10 carries for 80 yards and the one TD, plus the 11-yard reception.
Hallett's touchdown after blocking punter Stefan Flintoft at 5:21 of the second quarter boosted Winnipeg's lead to 15-3.
Bombers linebacker Kyrie Wilson then intercepted Adams, with the turnover leading to Castillo's 29-yarder at 9:36.
Adams threw up a Hail Mary with one second left in the half. McInnis came down with the ball in a crowded end zone as time expired for a 45-yard TD reception. A Whyte convert squeezed the score 18-10.
Castillo's 34-yard attempt hit an upright seven minutes into the third quarter, but Whyte was good on his 43-yarder three minutes later.
Winnipeg cornerback Demerio Houston picked up his eighth interception of the season 1:16 into the fourth. The turnover was used for Castillo's 11-yarder after the Bombers were stopped twice at B.C.'s three-yard line.
Castillo made it 24-13 with a 35-yarder with 3:10 remaining.
Bombers defensive back Evan Holm intercepted Adams with 20 seconds left and Winnipeg ran out the clock.
(The Canadian Press)