Tech
Shopping for the holidays? Save money with these apps, websites
Stagnant wages. Higher interest rates. Record rental costs. Expensive groceries.
Article content
If there's one year Canadians can appreciate saving money, it's this one.
Article content
Fortunately, tech can play a role in saving you cash — especially ahead of the gift-giving season — thanks to free apps for your phone or tablet that scour your local stores for sales, websites that sniff out good deals online (or give you cash back for shopping at participating retailers), and browser extensions that instantly apply coupons and discount codes to your purchases at checkout.
The following are five free solutions worth considering, each of which work a little differently.
Flipp
A website and app (iOS, Android), Toronto-based Flipp not only aggregates all those paper flyers we get delivered to our doorstep, but it also highlights the best nearby deals, too.
Article content
You can type a keyword, like "chicken breast," and it will show the best prices at local supermarkets, or you can choose to browse by store to begin flipping through ads with your finger or mouse. On the app, tap to virtually clip it into your built-in shopping list or press and hold on an item to learn more about it.
Shopping for the holidays? A Watch List feature keeps track of items you are hoping to get a good deal on and you will receive alerts for when those items go on sale, such as waiting for wireless headphones to drop below $70 when they're normally $100.
While Flipp is used primarily for retail shopping — and it holds all your loyalty cards, too, for you to flash the app to a cashier to scan — it will also flag online-only deals, too.
Article content
Flashfood
Another Toronto-based company, Flashfood is a free app that can help Canadians save on about-to-expire grocery items, rather than ending up in landfills.
In other words, it's a win-win: you can get a discount on groceries, like a box of produce for $5 or bread that's 50% off, and the supermarket can make some money on its aging inventory instead of throwing it out.
Once you open the app, you can browse discounts by nearby stores (via an overhead map), pay for it through the app, and then pick it up in-store (such as at a customer service area or a Flashfood section). The platform currently works mostly through Loblaw chains — stores like Loblaws, No Frills, and Real Canadian Superstore.
The company says it has diverted 30 million pounds of food waste from landfills in 2022 alone.
Article content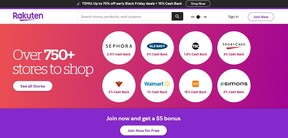 Rakuten
Formerly eBates, Rakuten pays members cash back every time you shop online through participating retailers — and there more than 750 supporting stores.
Sign up for a free account and launch the app or website whenever you want to start shopping. Now you can tap on the logo of a supported store to search for products — such as Canadian Tire, Sephora, Indigo, Temu, The Bay, Walmart, and Old Navy, to name a few — or type in a keyword in the search bar at the top.
Once you buy the item at the store, you'll start earning cash that can be sent to you via cheque or deposited into a PayPal account (as often as every three months). The percentage you get back varies, but is usually up to 10%, says Rakuten.
There is also a free browser extension, should you prefer Rakuten to automatically find and apply coupons (and compares prices), so you get the best deal.
Article content
Honey
This "sweet" browser extension is becoming a popular tool for Canadian shoppers.
To get going, click to add Honey to your favourite web browser — be it Google Chrome, Safari, Edge, Firefox, or Opera — and shop online like you normally would. Honey will sense where and what you're shopping for and let you know if there are coupon codes available to apply to your cart or if finds the best price elsewhere.
For example, Honey may highlight a $7-off deal for premium dog food at Pet Valu Canada. Or if you're about to buy a pair of shoes at Sport Chek, click the orange Honey icon in the top right of your browser and it'll show you if it's a good price or not (such as it being $20 more two weeks earlier). You can also add items to your Honey "Droplist" to keep an eye on price drops.
Article content
Honey Gold Rewards is similar to Rakuten, where you can earn points for shopping on participating sites, such as getting 8% at H&M, and then redeem for gift cards.
Slickdeals
A website, app and browser extension, Slickdeals is billed as the largest online deal-sharing community with about 12 million users (mostly in the U.S.) with one simple goal: To spread the word on the best deals found on products, services, travel, and more.
All online or retail deals discussed are voted on by the community, and the hottest ones move up to the Popular Deals section (such as 70% off an air fryer). The best of the Popular Deals is then screened by the company's Deal Editors, to see if the deal is good enough to graduate to the coveted Frontpage of the app or website.
If you want to price-watch an item, you can sign up for "deal alerts," and be notified if such a bargain is posted.
The Slickdeals browser extension automatically flags available coupons and promo codes upon checkout.