Lifestyle
Here's when Canada is testing its emergency alert system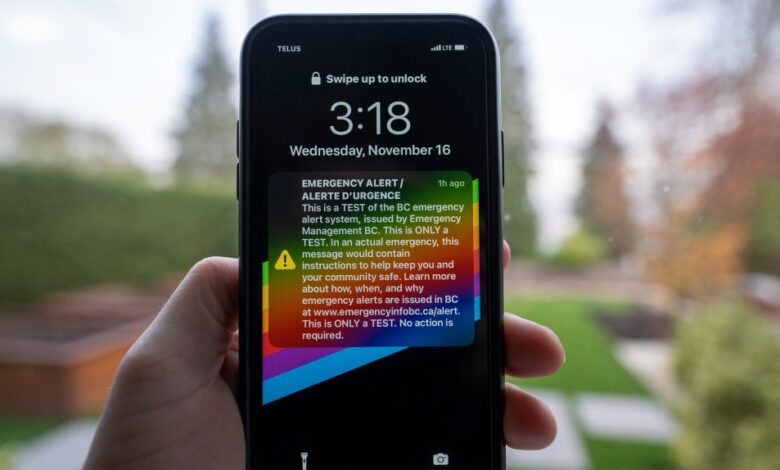 A test of the Alert Ready system is happening across Canada on Wednesday.
The system being tested allows government agencies to warn the public about events that are considered to be a threat to life, such as explosives, wildfires, air quality and national security, among others.
The operators of Canada's emergency alert system say Canadians can expect to hear the alert tone and see a message advising of the test. The message will appear on TV, radio and cellphones across the country.
Here's when the test alert will take place, based on location:
Newfoundland and Labrador at 10:55 a.m. NST
New Brunswick at 10:55 a.m. AST
Prince Edward Island at 12:55 p.m. AST
Nova Scotia at 1:55 p.m. AST
Quebec at 1:55 p.m. EST
Ontario at 12:55 p.m. EST
Nunavut at 2:00 p.m. EST
Manitoba at 1:55 p.m. CST
Saskatchewan at 1:55 p.m. CST
Yukon at 1:55 p.m. MST
British Columbia at 1:55 p.m. PST
No tests are running in Alberta and the Northwest Territories this month.
Following the messages, the operators of Canada's Alert Ready system will be conducting two surveys they say are meant to improve the accessibility and effectiveness of the alerts.
There is a focus on improving the system for Canadians with disabilities, according to Alert Ready.
There are alternatives for people who are deaf, hard of hearing, blind or partially sighted, the Alert Ready website reads, but not all devices have the capability to produce the formats.
Some broadcasters may use text-to-speech software to create an audio version of the message, while some phones allow for the message to be read out loud. There is also a vibration feature on some phones to alert Canadians to the message.
A survey for the general public will also be available, which will ask respondents to rate the Alert Ready system overall.
The system comprises all levels of government, emergency management officials, Environment and Climate Change Canada, Pelmorex, the broadcasting industry and wireless services providers.
"Together, these partners work to ensure Canadians receive alerts immediately and know when to take action to stay safe," the Alert Ready website reads.